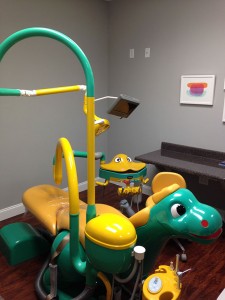 Dr. Garner, Dr. Nichols, and our dental team are committed to providing optimal dental care. Our compassionate dentists and team also strive to help you feel welcomed and comfortable at Dental Group of Magee. We offer many amenities including a coffee and water bar, warm towels, and a TV in each exam room. To make appointments for our younger patients more fun, we have a state-of the art dino exam chair. The dino chair is designed to put children at ease and add fun to their dental experience.
At Dental Group of Magee, patient comfort does not stop with our positive office atmosphere. Our dentists place high importance in providing the highest standard of dentistry to our patients. We are proud to offer advanced dental tools for your dental experience. We utilize dental X-rays, which use much less radiation than traditional X-rays. Our intraoral camera allows our dentists and team to educate our patients about what is going on in their mouths. Ultrasonic cleaning allows our hygienist to clean your teeth with a tool that is designed to clean deeper into any periodontal pockets in the gums. Ultrasonic cleaners are also kinder to tooth structure.
We invite you to contact our dental office today to schedule a visit and to learn more about our office amenities in Magee, Mississippi.